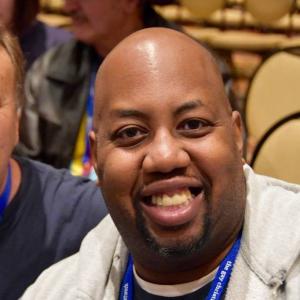 Adrian Howell
Adrian C. Howell is a native Torontonian, and a self taught photographer. When not working in his emergency services day job, Adrian is often found travelling the world taking photos.
While he believes that everything is photographable, Adrian's specialities are cityscapes, black and white, and low-light photography.
New York City has a special place in his heart, though photos of London, Tokyo, Hawaii, Barcelona and other locales grace his collection in addition to his hometown of Toronto.
---
How long have you been creating art?
I've been creating art for about 10 years. I've always been interested in photography, and a colleague at work persuaded me to buy a used SLR camera from him, and assorted filters and lenses. That, combined with my love of travel, enabled me to practice, practice, practice!
When I'm not making art, I'm (a) ...
singing! I freely admit that karaoke is a weakness of mine, but in my defense, I am good at it! No, really!
Which piece of art you've created is your favourite, and why?
I think my favourite piece of art I've created is a photo of a couple looking at the skyline from the Brooklyn side in New York City. They are sitting on a pier, looking at each other, and this beautiful tableau is in the background. It's at night, and the colours mirror the dynamism of New York
Why is it important for people to have art in their home or life?
In these times, it can be hard to find and see beauty in the world. I think art enables people to have a small bit of that beauty easily accessible at all times
Best season of the year in Toronto
Autumn transitioning into winter. The colours are so vibrant, and there's nothing so clear and crisp as a winter sky at night.
Favourite movie
A Christmas Carol, 1951 starring Alastair Sim.